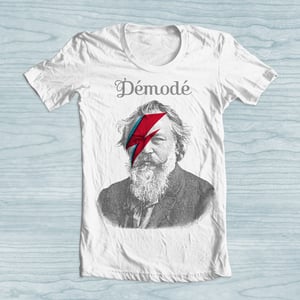 €

10.00 - On Sale
IT:

Le t-shirt Démodé sono stampate a mano in serigrafia a tre colori su magliette di qualità in cotone 150g.
DIsponibili su t-shirt bianca o grigia, in modelli da uomo e da donna, più sfiancata.
Per tutti quelli che non sapevano che anche Johannes Brahms era fan di David Bowie!
La spedizione avverrà tramite Posta Prioritaria per mantenere i costi bassi. Decliniamo ogni responsabilità per eventuali smarrimenti del pacco.
Se preferisci altri metodi di spedizione tracciabili non esitare a contattarci e saremo felici di accontentarti!
- - - - - - - - - - - -✍ - - - - - - - - - - -
EN:

Our t-shirts are silkscreen handprinted on high quality 150g cotton.
Available in white or gray in both boy and girl models and sizes. 

For everyone who didn't know that Johannes Brahms was a David Bowie addict too!